Three Men in a Boat. Jerome K. Jerome (English)
I have known one clump on the head have more effect upon my liver, and make me feel more anxious to go straight away then and there, and do what was wanted to be done, without further loss of time, than a whole box of pills does now. You know, it often is so - those simple, old-fashioned remedies are sometimes more efficacious than all the dispensary stuff. We sat there for half-an-hour, describing to each other our maladies. I explained to George and William Harris how I felt when I got up in the morning, and William Harris told us how he felt when he went to bed; and George stood on the hearth-rug, and gave us a clever and powerful piece of acting, illustrative of how he felt in the night. At this point, Mrs. Poppets knocked at the door to know if we were ready for supper. We smiled sadly at one another, and said we supposed we had better try to swallow a bit. Poppets brought the tray in, and we drew up to the table, and toyed with a little steak and onions, and some rhubarb tart. This duty done, we refilled our glasses, lit our pipes, and resumed the discussion upon our state of health. What it was that was actually the matter with us, we none of us could be sure of; but the unanimous opinion was that it - whatever it was - had been brought on by overwork. Change of scene, and absence of the necessity for thought, will restore the mental equilibrium.
George has a cousin, who is usually described in the charge-sheet as a medical student, so that he naturally has a somewhat family-physicianary way of putting things. I agreed with George, and suggested that we should seek out some retired and old-world spot, far from the madding crowd, and dream away a sunny week among its drowsy lanes - some half-forgotten nook, hidden away by the fairies, out of reach of the noisy world - some quaint-perched eyrie on the cliffs of Time, from whence the surging waves of the nineteenth century would sound far-off and faint. Harris said he thought it would be humpy. I objected to the sea trip strongly. A sea trip does you good when you are going to have a couple of months of it, but, for a week, it is wicked. You start on Monday with the idea implanted in your bosom that you are going to enjoy yourself. You wave an airy adieu to the boys on shore, light your biggest pipe, and swagger about the deck as if you were Captain Cook, Sir Francis Drake, and Christopher Columbus all rolled into one. On Wednesday, Thursday, and Friday, you wish you were dead. On Saturday, you are able to swallow a little beef tea, and to sit up on deck, and answer with a wan, sweet smile when kind-hearted people ask you how you feel now. On Sunday, you begin to walk about again, and take solid food. And on Monday morning, as, with your bag and umbrella in your hand, you stand by the gunwale, waiting to step ashore, you begin to thoroughly like it. I remember my brother-in-law going for a short sea trip once, for the benefit of his health. He took a return berth from London to Liverpool; and when he got to Liverpool, the only thing he was anxious about was to sell that return ticket. It was offered round the town at a tremendous reduction, so I am told; and was eventually sold for eighteenpence to a bilious-looking youth who had just been advised by his medical men to go to the sea-side, and take exercise. He himself - my brother-in-law - came back by train. He said the North- Western Railway was healthy enough for him. The steward recommended the latter course, as it would come so much cheaper. He said they would do him for the whole week at two pounds five. He said for breakfast there would be fish, followed by a grill. Lunch was at one, and consisted of four courses. Dinner at six - soup, fish, entree, joint, poultry, salad, sweets, cheese, and dessert. And a light meat supper at ten. My friend thought he would close on the two-pound-five job he is a hearty eater , and did so.
Lunch came just as they were off Sheerness. He pondered a good deal during the afternoon, and at one time it seemed to him that he had been eating nothing but boiled beef for weeks, and at other times it seemed that he must have been living on strawberries and cream for years. Neither the beef nor the strawberries and cream seemed happy, either - seemed discontented like. At six, they came and told him dinner was ready. The announcement aroused no enthusiasm within him, but he felt that there was some of that two-pound-five to be worked off, and he held on to ropes and things and went down. A pleasant odour of onions and hot ham, mingled with fried fish and greens, greeted him at the bottom of the ladder; and then the steward came up with an oily smile, and said:. He left the ship on Tuesday, and as it steamed away from the landing-stage he gazed after it regretfully. He said that if they had given him another day he thought he could have put it straight. So I set my face against the sea trip. Not, as I explained, upon my own account. I was never queer. But I was afraid for George. George said he should be all right, and would rather like it, but he would advise Harris and me not to think of it, as he felt sure we should both be ill. Harris said that, to himself, it was always a mystery how people managed to get sick at sea - said he thought people must do it on purpose, from affectation - said he had often wished to be, but had never been able. Then he told us anecdotes of how he had gone across the Channel when it was so rough that the passengers had to be tied into their berths, and he and the captain were the only two living souls on board who were not ill. Sometimes it was he and the second mate who were not ill; but it was generally he and one other man. If not he and another man, then it was he by himself. It is a curious fact, but nobody ever is sea-sick - on land. At sea, you come across plenty of people very bad indeed, whole boat-loads of them; but I never met a man yet, on land, who had ever known at all what it was to be sea-sick. Where the thousands upon thousands of bad sailors that swarm in every ship hide themselves when they are on land is a mystery. If most men were like a fellow I saw on the Yarmouth boat one day, I could account for the seeming enigma easily enough. It was just off Southend Pier, I recollect, and he was leaning out through one of the port-holes in a very dangerous position.
Трое в лодке (читать на английском языке, переводить текст)
I went up to him to try and save him. I wish I was," was the only answer I could get; and there I had to leave him. Three weeks afterwards, I met him in the coffee-room of a Bath hotel, talking about his voyages, and explaining, with enthusiasm, how he loved the sea. It was off Cape Horn. The vessel was wrecked the next morning. I did have a headache that afternoon. It was the pickles, you know. They were the most disgraceful pickles I ever tasted in a respectable boat. Did you have any? For myself, I have discovered an excellent preventive against sea- sickness, in balancing myself. You stand in the centre of the deck, and, as the ship heaves and pitches, you move your body about, so as to keep it always straight. When the front of the ship rises, you lean forward, till the deck almost touches your nose; and when its back end gets up, you lean backwards. Harris said, however, that the river would suit him to a "T. It seems to suit everybody, however, which is greatly to its credit. The only one who was not struck with the suggestion was Montmorency. He never did care for the river, did Montmorency.
If you ask me, I call the whole thing bally foolishness. We arranged to start on the following Saturday from Kingston. Harris and I would go down in the morning, and take the boat up to Chertsey, and George, who would not be able to get away from the City till the afternoon George goes to sleep at a bank from ten to four each day, except Saturdays, when they wake him up and put him outside at two , would meet us there. George and I were for camping out. We said it would be so wild and free, so patriarchal like. Slowly the golden memory of the dead sun fades from the hearts of the cold, sad clouds. Then we run our little boat into some quiet nook, and the tent is pitched, and the frugal supper cooked and eaten. You can never rouse Harris. There is no poetry about Harris - no wild yearning for the unattainable. Harris never "weeps, he knows not why. Is it but the mermaids singing deep below the waving waters; or sad spirits, chanting dirges for white corpses, held by seaweed? Now, you come along with me. I know a place round the corner here, where you can get a drop of the finest Scotch whisky you ever tasted - put you right in less than no time. Harris always does know a place round the corner where you can get something brilliant in the drinking line. I believe that if you met Harris up in Paradise supposing such a thing likely , he would immediately greet you with:. In the present instance, however, as regarded the camping out, his practical view of the matter came as a very timely hint. Camping out in rainy weather is not pleasant. You are wet through, and there is a good two inches of water in the boat, and all the things are damp. You find a place on the banks that is not quite so puddly as other places you have seen, and you land and lug out the tent, and two of you proceed to fix it. It is soaked and heavy, and it flops about, and tumbles down on you, and clings round your head and makes you mad. The rain is pouring steadily down all the time. It is difficult enough to fix a tent in dry weather: Instead of helping you, it seems to you that the other man is simply playing the fool. Just as you get your side beautifully fixed, he gives it a hoist from his end, and spoils it all. You lay down the mallet and start to go round and tell him what you think about the whole business, and, at the same time, he starts round in the same direction to come and explain his views to you. And you follow each other round and round, swearing at one another, until the tent tumbles down in a heap, and leaves you looking at each other across its ruins, when you both indignantly exclaim, in the same breath:. At last, somehow or other, it does get up, and you land the things. It is hopeless attempting to make a wood fire, so you light the methylated spirit stove, and crowd round that. Rainwater is the chief article of diet at supper. The bread is two- thirds rainwater, the beefsteak-pie is exceedingly rich in it, and the jam, and the butter, and the salt, and the coffee have all combined with it to make soup.
K. Jerome: Three men in a boat (to say nothing of a dog)
After supper, you find your tobacco is damp, and you cannot smoke. Luckily you have a bottle of the stuff that cheers and inebriates, if taken in proper quantity, and this restores to you sufficient interest in life to induce you to go to bed. There you dream that an elephant has suddenly sat down on your chest, and that the volcano has exploded and thrown you down to the bottom of the sea - the elephant still sleeping peacefully on your bosom. You wake up and grasp the idea that something terrible really has happened. Your first impression is that the end of the world has come; and then you think that this cannot be, and that it is thieves and murderers, or else fire, and this opinion you express in the usual method. No help comes, however, and all you know is that thousands of people are kicking you, and you are being smothered. Somebody else seems in trouble, too. You can hear his faint cries coming from underneath your bed. Determining, at all events, to sell your life dearly, you struggle frantically, hitting out right and left with arms and legs, and yelling lustily the while, and at last something gives way, and you find your head in the fresh air. Then you both raise up your voices and shout for "Bill! And Bill struggles out, a muddy, trampled wreck, and in an unnecessarily aggressive mood - he being under the evident belief that the whole thing has been done on purpose. In the morning you are all three speechless, owing to having caught severe colds in the night; you also feel very quarrelsome, and you swear at each other in hoarse whispers during the whole of breakfast time. We therefore decided that we would sleep out on fine nights; and hotel it, and inn it, and pub. Montmorency hailed this compromise with much approval. He does not revel in romantic solitude. Give him something noisy; and if a trifle low, so much the jollier. To look at Montmorency you would imagine that he was an angel sent upon the earth, for some reason withheld from mankind, in the shape of a small fox-terrier. There is a sort of Oh-what-a-wicked- world-this-is-and-how-I-wish-I-could-do-something-to-make-it-better-and- nobler expression about Montmorency that has been known to bring the tears into the eyes of pious old ladies and gentlemen. When first he came to live at my expense, I never thought I should be able to get him to stop long. I used to sit down and look at him, as he sat on the rug and looked up at me, and think: He will be snatched up to the bright skies in a chariot, that is what will happen to him. SO, on the following evening, we again assembled, to discuss and arrange our plans.
Now, you get a bit of paper and write down, J. He always reminds me of my poor Uncle Podger. You never saw such a commotion up and down a house, in all your life, as when my Uncle Podger undertook to do a job. And then he would take off his coat, and begin. And then he would lift up the picture, and drop it, and it would come out of the frame, and he would try to save the glass, and cut himself; and then he would spring round the room, looking for his handkerchief. He could not find his handkerchief, because it was in the pocket of the coat he had taken off, and he did not know where he had put the coat, and all the house had to leave off looking for his tools, and start looking for his coat; while he would dance round and hinder them. Well, of all the - ". Might just as well ask the cat to find anything as expect you people to find it. And, when half an hour had been spent in tying up his finger, and a new glass had been got, and the tools, and the ladder, and the chair, and the candle had been brought, he would have another go, the whole family, including the girl and the charwoman, standing round in a semi-circle, ready to help. Two people would have to hold the chair, and a third would help him up on it, and hold him there, and a fourth would hand him a nail, and a fifth would pass him up the hammer, and he would take hold of the nail, and drop it. And we would all have to go down on our knees and grovel for it, while he would stand on the chair, and grunt, and want to know if he was to be kept there all the evening. What did I do with the hammer? We would find the hammer for him, and then he would have lost sight of the mark he had made on the wall, where the nail was to go in, and each of us had to get up on the chair, beside him, and see if we could find it; and we would each discover it in a different place, and he would call us all fools, one after another, and tell us to get down. And he would take the rule, and re-measure, and find that he wanted half thirty-one and three-eighths inches from the corner, and would try to do it in his head, and go mad. And we would all try to do it in our heads, and all arrive at different results, and sneer at one another. And in the general row, the original number would be forgotten, and Uncle Podger would have to measure it again. He would use a bit of string this time, and at the critical moment, when the old fool was leaning over the chair at an angle of forty-five, and trying to reach a point three inches beyond what was possible for him to reach, the string would slip, and down he would slide on to the piano, a really fine musical effect being produced by the suddenness with which his head and body struck all the notes at the same time.
And Aunt Maria would say that she would not allow the children to stand round and hear such language. At last, Uncle Podger would get the spot fixed again, and put the point of the nail on it with his left hand, and take the hammer in his right hand. And then he would have another try, and, at the second blow, the nail would go clean through the plaster, and half the hammer after it, and Uncle Podger be precipitated against the wall with force nearly sufficient to flatten his nose. Then we had to find the rule and the string again, and a new hole was made; and, about midnight, the picture would be up - very crooked and insecure, the wall for yards round looking as if it had been smoothed down with a rake, and everybody dead beat and wretched - except Uncle Podger. Harris will be just that sort of man when he grows up, I know, and I told him so. I said I could not permit him to take so much labour upon himself. The first list we made out had to be discarded. It was clear that the upper reaches of the Thames would not allow of the navigation of a boat sufficiently large to take the things we had set down as indispensable; so we tore the list up, and looked at one another! George comes out really quite sensible at times. I call that downright wisdom, not merely as regards the present case, but with reference to our trip up the river of life, generally. How many people, on that voyage, load up the boat till it is ever in danger of swamping with a store of foolish things which they think essential to the pleasure and comfort of the trip, but which are really only useless lumber. It is lumber, man - all lumber! It makes the boat so heavy to pull, you nearly faint at the oars. Throw the lumber over, man! Let your boat of life be light, packed with only what you need - a homely home and simple pleasures, one or two friends, worth the name, someone to love and someone to love you, a cat, a dog, and a pipe or two, enough to eat and enough to wear, and a little more than enough to drink; for thirst is a dangerous thing. You will find the boat easier to pull then, and it will not be so liable to upset, and it will not matter so much if it does upset; good, plain merchandise will stand water. You will have time to think as well as to work. It is ever so much simpler, and more comfortable. It seemed a good thought, and we adopted it. I do not know whether you have ever seen the thing I mean. You fix iron hoops up over the boat, and stretch a huge canvas over them, and fasten it down all round, from stem to stern, and it converts the boat into a sort of little house, and it is beautifully cosy, though a trifle stuffy; but there, everything has its drawbacks, as the man said when his mother-in-law died, and they came down upon him for the funeral expenses. It is the same when you go to the sea-side. I always get red bathing drawers. I rather fancy myself in red drawers. They suit my complexion so. On the contrary, I feel more that I want to stop in bed till the last moment, and then come down and have my breakfast.
Once or twice virtue has triumphed, and I have got out at six and half-dressed myself, and have taken my drawers and towel, and stumbled dismally off. And when I do get to the sea, it is rough and quite insulting. One huge wave catches me up and chucks me in a sitting posture, as hard as ever it can, down on to a rock which has been put there for me. I hop back and dress, and crawl home, where I have to pretend I liked it. In the present instance, we all talked as if we were going to have a long swim every morning. George said it was so pleasant to wake up in the boat in the fresh morning, and plunge into the limpid river. Harris said there was nothing like a swim before breakfast to give you an appetite. He said it always gave him an appetite. George said that if it was going to make Harris eat more than Harris ordinarily ate, then he should protest against Harris having a bath at all. He said there would be quite enough hard work in towing sufficient food for Harris up against stream, as it was. For clothes, George said two suits of flannel would be sufficient, as we could wash them ourselves, in the river, when they got dirty. We asked him if he had ever tried washing flannels in the river, and he replied: We were to learn in the days to come, when it was too late, that George was a miserable impostor, who could evidently have known nothing whatever about the matter. If you had seen these clothes after - but, as the shilling shockers say, we anticipate. George impressed upon us to take a change of under-things and plenty of socks, in case we got upset and wanted a change; also plenty of handkerchiefs, as they would do to wipe things, and a pair of leather boots as well as our boating shoes, as we should want them if we got upset. We had taken up an oil-stove once, but "never again. I never saw such a thing as paraffine oil is to ooze. We kept it in the nose of the boat, and, from there, it oozed down to the rudder, impregnating the whole boat and everything in it on its way, and it oozed over the river, and saturated the scenery and spoilt the atmosphere. Sometimes a westerly oily wind blew, and at other times an easterly oily wind, and sometimes it blew a northerly oily wind, and maybe a southerly oily wind; but whether it came from the Arctic snows, or was raised in the waste of the desert sands, it came alike to us laden with the fragrance of paraffine oil. And that oil oozed up and ruined the sunset; and as for the moonbeams, they positively reeked of paraffine. We tried to get away from it at Marlow. We left the boat by the bridge, and took a walk through the town to escape it, but it followed us. The whole town was full of oil. We passed through the church-yard, and it seemed as if the people had been buried in oil. The High Street stunk of oil; we wondered how people could live in it. And we walked miles upon miles out Birmingham way; but it was no use, the country was steeped in oil.
At the end of that trip we met together at midnight in a lonely field, under a blasted oak, and took an awful oath we had been swearing for a whole week about the thing in an ordinary, middle-class way, but this was a swell affair - an awful oath never to take paraffine oil with us in a boat again-except, of course, in case of sickness.
Therefore, in the present instance, we confined ourselves to methylated spirit. Even that is bad enough. You get methylated pie and methylated cake. But methylated spirit is more wholesome when taken into the system in large quantities than paraffine oil. For other breakfast things, George suggested eggs and bacon, which were easy to cook, cold meat, tea, bread and butter, and jam. Cheese, like oil, makes too much of itself. It wants the whole boat to itself. It goes through the hamper, and gives a cheesy flavour to everything else there. It all seems cheese. There is too much odour about cheese. I remember a friend of mine, buying a couple of cheeses at Liverpool. Splendid cheeses they were, ripe and mellow, and with a two hundred horse-power scent about them that might have been warranted to carry three miles, and knock a man over at two hundred yards. I called for the cheeses, and took them away in a cab. It was a ramshackle affair, dragged along by a knock-kneed, broken-winded somnambulist, which his owner, in a moment of enthusiasm, during conversation, referred to as a horse. I put the cheeses on the top, and we started off at a shamble that would have done credit to the swiftest steam-roller ever built, and all went merry as a funeral bell, until we turned the corner. There, the wind carried a whiff from the cheeses full on to our steed. It woke him up, and, with a snort of terror, he dashed off at three miles an hour. Я читала эту книгу уже несколько раз и всегда перечитываю с огромным удовольствием, смеюсь над особенно "вкусными" моментами", которых здесь очень много. Лексика непростая, нужен уровень не ниже Intermediate. Очень понравилась этак книга. В конце каждой главы есть вопросы, с помощью которых вы сможете оценить ваше понимание текста. Так же есть словарь.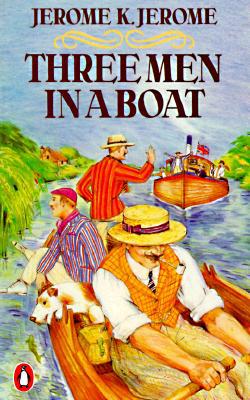 Где купить эту книгу? В обычном магазине или через Интернет? У нас Вы можете купить книгу дешевле , а получить быстрее, чем где бы то ни было. Сделать правильный выбор Вам помогут рецензии покупателей, а также дополнительные материалы: Я старше 18 лет, принимаю условия работы сайта, даю согласие на обработку перс. Сумма без скидки 0 р. Вы экономите 0 р. Учебники, методическая литература, словари Например: Исторические науки Педагогика Психология Технические науки Универсальные энциклопедии Филологические науки. Искусство Медицина и здоровье. Публицистика Литературные журналы Религия Туризм. Навигатор по детским книгам. Классы 1 2 3 4 5 6 7 8 9 10 11 Для дошкольников. Детское творчество Наборы для раскрашивания Конструирование из бумаги Лепка. Игры Настольные игры Пазлы Магнитные игры, буквы, цифры. Игрушки Конструкторы Сборные модели Наборы для тематических игр. Витражная роспись Все для праздника Головоломки Гравюры Детские сувениры Детские часы Другие виды игрушек Другие виды творчества Игрушки для самых маленьких Игры для активного отдыха. Игры с мишенью Книжки-игрушки Куклы и аксессуары для кукол Кукольный театр Машинки и транспорт Музыкальные инструменты Мягкие игрушки Наборы для рукоделия Наклейки детские Научные игры для детей. Изучайте английский язык с помощью параллельного текста книги "Трое в одной лодке, не считая собаки". Метод интервальных повторений для пополнения словарного запаса английских слов. Всего книг и познавательных видеороликов в бесплатном доступе. Последние добавленные на изучение слова изучено 0 для этой книги bungle - вчера в Трое в одной лодке, не считая собаки пер. The chief beauty of this book lies not so much in its literary style, or in the extent and usefulness of the information it conveys, as in its simple truthfulness. Прелесть этой книги - не столько в литературном стиле или полноте и пользе заключающихся в ней сведений, сколько в безыскусственной правдивости. Its pages form the record of events that really happened. Великая Отечественная война двигается…. Древний и опасный враг. Он очень силен и могуществен. И этот враг настолько опасен, что…. Я попала в другой мир в Мертвую Академию, оказавшись…. Кто мог подумать, что последний курс в Академии Магии Севера окажется настолько трудным?! Принято считать, что события во времена средневековья протекали медленно. Угодившие в XIV век два…. Шар Судеб, задержавшийся было на гребне Излома, срывается вниз, сминая судьбы и руша отлично…. К тридцати с лишним годам он обзавелся женой, нерегулярными подработками на…. В современном мире не всякая старшая сестра кинется спасать младшего непутевого братца, прекрасно…. С начала х и до середины х годов Дженнифер Уорф работала акушеркой в бедном лондонском….